Like a day at the beach that never ends. There are parasols, deckchairs, beach towels. Some people sunbathe, while others do yoga, read a book or build sandcastles. Somewhere between an installation and an opera, Sun & Sea (Marina) represented Lithuania at the 2019 Venice Biennale, won the public's votes and was awarded the Golden Lion.
One of the unique aspects of the piece is that the spectators look down on the stage from a gallery, making it seem like an inaccessible dream. "It seemed to us the best way to show bodies that were lying down from the front without the view being distorted by perspective. The distance also makes it feel like you are viewing the performance through a frame. And it is as if these people, absorbed in very mundane tasks, belong to another place that we are observing from outer space," explains Rugilé Barzdziukaité, the director.
The different monologues that are sung are woven from individual stories and reflections and are tinged with a dull fear of the approaching environmental disaster. "There is a paradox between the music, which is light and poppy, the highly colourful sets, and the libretto, which is dark and ironic, resulting in a work that is neither joyful nor sad, in which melancholy is undoubtedly the connecting thread," says Vaiva Grainyté, the author of the libretto.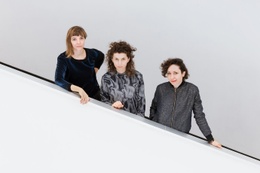 The cast includes professional singers and locally recruited performers. "We want to include a variety of physical builds, ages, and backgrounds. They add an element of documentary and bring their own characteristics and mannerisms that can sometimes translate into unpredictable behaviour."
Completed before the pandemic and the recent environmental disasters, the work resonates even more profoundly now. "You get the impression that some parts of the text spoke of a future that is now the present, but people have not really changed that much and are in a hurry to return to their old ways," observes the composer Lina Lapelyté.