Recently, Clara-Lane Lens adorned L.I.T.A.N.I.E.S, her father's new collaboration with Nick Cave, with a fragile beauty. Today the Brussels painter, currently residing in Berlin, is in 254Forest with a body of work that is as vulnerable as it is bold.
Born on 16 May 1997 in Elsene/Ixelles
Has a solo show, "Genderless", at Le Lac in 2018
Graduates in painting at LUCA School of Arts in Ghent in 2019
Moves to Berlin in September 2019
Heads back to Brussels just before the lockdown and lends her voice to L.I.T.A.N.I.E.S, her father Nicolas Lens's new collaboration with Nick Cave
Takes part in the group shows "New Saints" at Waldburger Wouters and "These Selves" at Pilar (2020)
"They Never Used to Talk Much" is her new solo show at 254Forest
"I went down / I went down and made a new / A new and foreign body / And found / When I looked into the river / It was no longer me." Clara-Lane Lens's voice sounds both utterly fragile and incredibly powerful in "Litany of Gathering Up", one of the tracks on L.I.T.A.N.I.E.S. Between the words "Where are you?" and "I see you", an intimate chamber opera unfolds on the album – moulded to maturity by the interwoven hands of her father, composer Nicholas Lens, and the Australian rock icon Nick Cave – that teeters, falls and rises again between darkness and hope, twilight and dawn, loss and some sort of future.

A litany, a lamentation, a poem, a prayer, a whisper, the slightest touch… L.I.T.A.N.I.E.S is a body of many selves. Maybe that is exactly why the voice of Clara-Lane Lens flows so naturally through it. "That and the fact that my vocals were not recorded in a studio, but at my father's house, during the first lockdown, without pressure, without the idea or even the intention of ending up on an album," smiles Clara-Lane Lens from behind her mouth mask in 254Forest. Only, the magic, the naturalness, the pure essence of those first takes trumped all intentions of the father, and so L.I.T.A.N.I.E.S in part became the daughter's record too.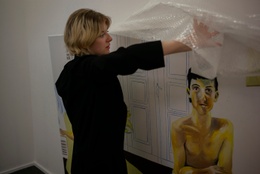 "In the end, it was a nice surprise," she says. "You know, my father has been gently pushing me towards music since I was a child, at four I was already playing the piano and going to operas, where I would always fall asleep. (Laughs) Who knows, maybe something else will come out of this, I'm not ruling anything out. But now I'm concentrating entirely on painting. In painting, it all depends on me."

BEHIND HER EYES
Against the walls of The Room at 254Forest, old and new, own and foreign bodies, still bubble-wrapped, bear witness to that desire. The canvases the Brussels-born artist, currently based in Berlin, shows in her solo show "They Never Used to Talk Much" represent many years. Years of meeting, exploring, deepening. "It all started with one portrait," says Clara-Lane Lens. "Of a girl who looked very androgynous already by nature, without me having to add anything to the canvas. A lot of people then wondered whether the figure in the painting was a girl or a boy. Bit by bit, completely unconsciously, that portrait first led to a series and then ended up determining all my work, my whole way and style of painting. I still find my drive in the unfathomability of those bodies and looks, a kind of essence that keeps escaping me and that I will probably spend my whole life looking for without ever finding it."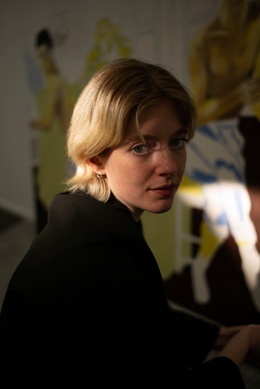 It is this paradox of her ongoing Genderless series that also grabs the viewer by the neck and draws them to the painting. The tension between intimacy and unreachability, fragility and audacity that sparkles in crystal-clear eyes. "I almost always start with those eyes, without a preliminary sketch, from that first movement on the canvas," Clara-Lane Lens nods. "Eyes define so much. When they are on the canvas, I know roughly where the work is going. It is also that look that I search for when I first photograph people – friends or strangers who catch my eye in a café, in a club or on the street. I speak to them, invite them to my place or I visit them and ask them if I can photograph them in their bathroom or bedroom. A place where there is an intimate atmosphere, where you don't let just anyone in. There, I always try to find that intimate moment when someone does not play to the camera and really are themselves. When I make self-portraits, it's those strangled feelings that I'm looking for, the side of myself that I don't see and don't recognise."

The moment when people fall out of their roles and deep into themselves. "When they break free from the biological fact of their gender. By taking that away, I managed to focus on things that I find more important: the personality that shines through the eyes, a twist in the body, a certain attitude, things that to me are much more interesting than the gender you are attached to at birth, that transcend the physical."
"People who walk the blurred line between male and female uninhibitedly and unabashedly, I've always found that very attractive," says Clara-Lane Lens. "Many people seem to think that, as an artist, you have to travel to the Seven Wonders of the World to find inspiration, whereas I often find it in the smallest things: how someone walks, talks, dresses, how two boys disappear into each other's arms and simply look at each other..."

A WHISPERING SILENCE
Clara-Lane Lens's work is in that sense very human, very tangible, very personal, as timeless as it is contemporary. It isn't too far-fetched to hear echoes of her mesmerizing work in the recent hashtag #textmewhenyourehome, under which women share stories about the verbal and physical aggression to which they are prey, about the public space that turns out to be anything but public. Somehow, these paintings seem to install a truly public space, a glowing, paradoxical space to inhabit, a body that shows itself in a fluid way. "Many of the people I paint are outside the heteronormative. I am a painter because I don't know what else I would do, I am not a political artist. It was never my intention for the Genderless series to be a statement. But it is a theme that appeals to me and that continues to motivate me. When people find themselves in it, find support in the work or see it as a kind of safe space, that makes me very happy."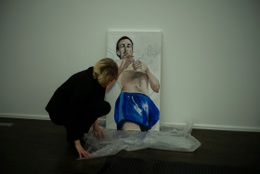 "If 2020, that year of introspection and deeper awareness, has made anything clear to me, it is that change is in our own hands. I'm thrilled to see that what was set in motion then – from the spill-over of Black Lives Matter into Europe, to the enduring rise of movements for women's rights and the LGBTQ+ community – has only become stronger and grown brighter. People are daring to stand up and speak out more, to rebel. That is absolutely necessary."

Clara-Lane Lens's Genderless series installs the silence that is needed for those voices to be heard. There is something in these bodies that thus gives way to many selves. That was already present in the earthy-toned canvases she made some time ago, but also in the new ones that boldly introduce colour and allude more to the interaction between figuration and abstraction. "I've been experimenting with that a lot lately. What can I leave open? What can remain rough, sketched, as a kind of thought lines? Where do I finish off more? That is very intuitive. The same goes for the colours. One evening, I went to photograph a friend of mine, Daniel, and the yellow light in his room came through very strongly in my photos. That's how it got onto the canvas, as a starting point for a new balance."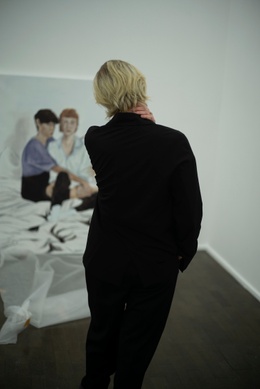 That game of texture and colour places a tenuous abstraction, a kind of melancholy over the canvases. "However close they may appear, they are always composite figures. Memories that are based on real people, but which end up beyond those bodies. As if they were no longer memories, but moments that could be now or later." Like a litany, a lamentation, a poem, a prayer, a whisper, the slightest touch...

CLARA-LANE LENS: THEY NEVER USED TO TALK MUCH
27/3 > 25/4, 254Forest, www.254forest.be