With fine fingers and a delightfully associative mind, Elise Peroi delicately breathes new life into a discipline that was once world-class in our part of the world. "I make the age-old link between garden and carpet," says the French-Brussels textile artist about her most recent weaving, on display at two intercommunicating exhibitions.
In the exhibition at the Botanique and, soon also at the Centre Tour à Plomb, Elise Peroi crosses the passion of a gardener for their seeds and an architect for space with her multilayered weaving designs. Whether they lie horizontally on the ground, as in the heyday of the Flemish tapestry, are fixed vertically to a wall, or whether they occupy the space hanging at an angle like a contemporary installation, they invariably give you the feeling of leaning on nature itself and thus bring you a little closer to the source.

Peroi got the idea that the world is her garden from her compatriot, the gardener and landscape architect Gilles Clément. "In a way, we're all gardeners and architects," she makes it sound like an expert by experience. "The foundation of my work is determined by materials from that 'garden': flax, silk, wool. When I work on a piece of textile, I can't help but think about architecture. A fabric, like a house, should be well made and sturdy enough. That requires an underlying architectural structure."

Peroi invited us to her studio, for almost two years now located in Area 42 in Schaarbeek/Schaerbeek. These were once office buildings of the former RTT, now (in non-Covid times) the events taking place here are mostly corporate. The fact that it was erected by Michel Polak, the architect of Villa Empain, also surprised the textile artist. "I discovered the place when I got to do a summer residency here about four years ago and I am particularly pleased that it is so spacious."
Just how monumental her carpets can be became clear earlier at the Kunstenfestivaldesarts where the 72 square metre Monolithe appeared in atla, a performance by Brussels choreographer Louise Vanneste. Textile architecture was also used here, with a gigantic piece of fabric in which you could enter as if in a cave and become one with nature. "The funny thing is that I made that very carpet (which consists of several pieces, ed.) in a very small studio. I've only seen it completely rolled out twice in my life!"

In her master's studies at the Académie Royale des Beaux-Arts, she delved into the work of Mexican architect Luis Barragán. "He talks about the 'emotional architecture' of a building, how a certain architecture makes us feel. With many windows that let light through, it cumulates inside and outside. I try to do that in my work, too."

POETRY
Peroi only found out when she was eighteen that there were courses for what she does now. But there has always been a penchant for a combination of artisanal labour and beauty. "My grandmother was a luminous calligrapher," she says proudly. "She taught me to write with a feather and ink. As a child, I impressed my classmates with it. When I was thirteen, I produced poetry books in which I incorporated pieces of fabric in addition to poems that echoed what I had written down."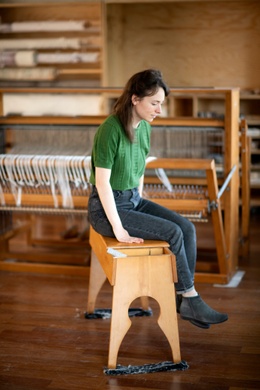 After spending her youth in her native city of Nantes and briefly studying in the Breton cities of Quimper and Lorient, Peroi came to Brussels at the age of twenty with great expectations to study textile design. "At the time, I was hardly familiar with the pioneering role that Belgium and Flanders had once played in the textile arts and industry, which still seeps through in the quality of training and knowledge of materials. I did regret that in 2015, when I finished my studies, I had immediately bought my last spool of yarn still spun in Flanders itself. There is still flax cultivation, but nowadays the spinning is outsourced to foreign countries. This has made the material a little more expensive." Earlier she also told us that her loom has cost her about 3,000 euros.

She hopes that the exhibition in the Botanique can arouse even more interest in her work, which, because of its fragility, also exudes primal strength. "There is a bit of demand already, but mainly for small works. The large ones are more museum-like and harder to market." In the meantime she has been picked up by Maria Lund's gallery in Paris, where she debuted with the solo show "Close to the Sun" after the exhibition at the Botanique was postponed last year.

FROM SEED TO FOREST
The pieces that now remain in her studio are destined for the exhibition that opens in June at the Centre Tour à Plomb in the Bloemenhof/Jardin aux Fleurs district. One of them – Faire sillons – communicates with the exhibition in the Botanique. "I compare how the gardener makes grooves in the soil with their rake or thumb to how I use a comb in weaving to do basically just the same thing."
ELISE PEROI THROUGH THE EYES OF FELLOW TEXTILE ARTIST JOT FAU: 'SHE CREATES A PARALLEL WORLD'
"Elise's work is very accessible as it uses simple materials that we all know but with it, she expresses something very noble and otherwordly." Jot Fau has already outed herself as a fan, but the admiration is mutual. You could say that the Flemish textile artist has travelled almost the opposite way from Peroi to arrive at something similar and yet different. Originally from Ypres, the former Mecca of the Flemish textile industry, but educated in Marseille, she met Peroi in Brussels, where both occasionally end up at the same group exhibitions, such as last year's expo of emerging talent at the Brussels Gallery Weekend.
"Elise exhibited a part of Monolithe, which I really like because it is so large and dark, but especially because it sucks you in, as if it were another world in which you can disappear. The rest of her work also often creates a parallel world, the result of a practice that is at once 3D and pictorial. As women and contemporaries who use textiles in a sculptural way, a link is often made between us," concludes the artist whose work can currently be seen in Veurne and in Mons. In September, the two will exhibit together again, at the tenth Triennial of Contemporary Art in Ottignies-Louvain-la-Neuve.
Even more than by Gilles Clément, her practice is inspired by the philosopher Michel Foucault, more specifically by his heterotopias. "These are places, call them in-between or mediation spaces, that take us out of our day-to-day and allow us to connect with our deeper selves, such as maternities and cemeteries, but also vacation centres. One of the oldest heterotopias is the garden. Foucault also referred to the age-old link between garden and carpet. A garden was often depicted on tapestries. I feel that link too."

This becomes clear when we walk through the herb garden on our way to her new exhibition. Peroi's eyes suddenly start to glitter. "This is where I started to pick up and collect grass and later seeds just before the lockdown. Look, there's a mulberry, the habitat of the silkworm." We can imagine how mesmerized she was listening when she was shown around by the gardener a year ago and he told her about the plan to grow silk in the future. Moral of the story: there is always something that can germinate and she has captured this in the exhibition "Là où se trouve la forêt", which is under construction a little further on in the Gallery.

Retrieved seeds may serve as extensions and additional grounding for works suspended from panels. Some are woven between textiles, others cast in bronze. She is not yet sure whether she will just scatter the latter on the ground or not. "There's also black cumin in there. If that gets trampled... But wait, an exhibition is allowed to evolve. Maybe some seed will stick to a shoe." Maybe it will end up right back on the spot she collected it from.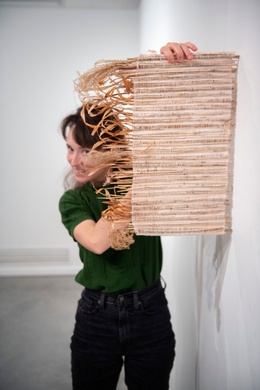 The cycle of life is immanently present in Peroi's work. Pour faire un prairie combines textiles with dried grass and will soon be hanging out like a flag. "Those grassy knolls also say something about waiting, being suspended, suspending time. After all, a dense forest allows only a limited amount of light through. At the bottom, seeds are in waiting mode: is the natural cycle just pulling itself together or not?"

Four large panels called Forêt and also show just that form the core of the exhibition. If she is efficient, she works on such a panel for two to three weeks, Peroi says. This weaving technique is ingenious: "Paintings on silk are cut into very small fragments and rewoven together with flax yarn according to the principle of the double chain. That's how the works get volume." A carpenter made the frames. The wood comes from beech from the Sonian Forest.

WEAVING, DANCING AND THINKING
A final work with the working title La marcheuse is more mystical. You recognise a figure in it that looks like a weaver, but Peroi's carpets usually do not have any human figures. They do move around sometimes, as a performance. "More specifically since I discovered the work of the French philosopher Paul Valéry at the end of my studies," she specifies. "He explains that the act of creating is a piece of work in itself. In everyday, often repetitive actions and movements, there is, according to him, a beauty that I appreciate very much myself. I can even enjoy watching my brother play a video game. I let the time I spend in my studio seep into my work by intentionally leaving voids."
ELISE PEROI THROUGH THE EYES OF MUSICIAN CABANE: 'WHAT BINDS US IS THAT WE BOTH NEED TO WORK IN SOLITUDE'
The musician Thomas Jean Henri, also known as Cabane, first came into contact with the work of his girlfriend Elise Peroi during her performance with choreographer Mui Cheuk-yin at the Hallen van Schaarbeek/Halles de Schaerbeek. "I was immediately very moved, and later I was very happy that she could do some joint performances. In these, she always takes the lead whereas I am more of a compagnon de route."
There are, he says, some similarities between her textile art and his music, both of which draw energy from their fragility. The two creation processes – from idea to composi- tion – require patience and a lot of planning. "What binds us is that we both need to work in solitude. Élise is not a talker anyway, she communicates through her work. Musicians throw away a lot and often end up with only three minutes left. Elise succeeds in making the hidden, elapsed studio work visible, and thus in capturing the passing of time. In that sense, her work is also an homage to what the yarn she weaves with was before it became yarn."
"Of course, I am not entirely objective, but what strikes me most about the two new exhibitions is that she continues to take risks. Her urge to explore is stimulating, all the more so because it contains a lot of depth. She does not limit herself to one message, there are always several underlying layers, whether it concerns the very delicate, minute works, or the larger pieces that radiate an enormous power."
These are filled in live by musicians or dancers. At the Artonov Festival, for example, she let her weaving cross over into the heavenly sounds of cellist Roel Dieltiens. A collaboration with Mui Cheuk-yin, the Hong-Kong choreographer who used to dance for Pina Bausch, also led to a memorable encounter between bamboo branches. For example, Peroi illustrates how a work tool – whether a rake, a loom or a computer – can be an extension of the body. "In those performances, I wanted to intersect the body with the grid of my tissues and give an extension to my movements in the studio... By the way, do you know that the meridian of our body also is a tissue?"

Peroi has an associative brain, with which she constantly tries to anchor her work. She is still thinking about possible interventions for the two new exhibitions, but meetings with philosopher Camille Laura Villet, who has just published her book Les aventuriers de l'abstraction, and radio producer Christine Van Acker, author of L'en vert de nos corps, are already providing depth. A trail with the Botanique's gardener counters with grounding, and a walk in collaboration with the Midis de la Poésie, probably between the two exhibitions, including visits and poetry that connects the two places, may awaken the young teenager in the thirtysomething.

ELISE PEROI
Exhibitions: Là où se trouve la forêt: 27/5 > 11/7, Botanique, www.botanique.be & Faire sillons: 9/6 > 3/7, Centre Tour à Plomb, www.touraplomb.be
Book: Elise Peroi – Ce qu'il reste de gestes, www.maison-cfc.be
www.eliseperoi.com