On her debut album Collapsed in Sunbeams, Arlo Parks offered a shoulder to all those struggling with dark thoughts and languid feelings. On her follow-up My Soft Machine, she found a tender cushion herself in love.
Born Anaïs Oluwatoyin Estelle Marinho in London in 2000. Her mother is from Paris, with Nigerian and Canadian blood flowing through her veins in addition to French and British
Has her debut in 2018 with the single "Cola'', a song she described as "a reminder that betrayal is inevitable when it comes to pretty people that think flowers fix everything." Thanks to the accompanying EP Super Sad Generation, she grows to be the mouthpiece of all those who are struggling
Wins the 2021 Mercury Prize with Collapsed in Sunbeams, her first album. This is followed two years later by My Soft Machine, in which she uses love (that she found in LA with American singer Ashnikko) to defy the harsh world. In September, she will release her first book of poetry, The Magic Border
That seems like ages ago," Arlo Parks says of the conversation we had three years back, just before she was allowed to expose a fledgling version of herself in the catacombs of the Botanique. The British singer-songwriter had just had her debut with the EP Super Sad Generation, and was quickly outed as the poster girl of the troubled generation she then aptly called to life in "Black Dog", "Eugene" and "Caroline", songs that ended up on her acclaimed debut album Collapsed in Sunbeams. The virus that soon would cripple the world was nothing more than a trivial thing in a far eastern country.
"I had just finished secondary school," grins the 23-year-old artist whose parents gave her the sovereign name Anaïs Oluwatoyin Estelle Marinho at birth. "I had not yet fully committed to the idea of being a musician and a songwriter. In fact, I wanted to go to uni to study English literature. As a shy teenager, a career in music seemed like an impossible dream to me, and nobody took me seriously anyway. It has been by believing in myself and by working on my songs that I slowly became convinced that this was the path to follow. Music was the only thing that gave me such a sense of complete self, of a complete grounding of who I was."
In the summer of 2019, Arlo Parks performed at the Glastonbury festival on the BBC Music Introducing stage in front of about 30 people. Four years and two albums later, she has won the Mercury Prize, moved to LA, added Phoebe Bridgers and Lorde to her address book and makes crowds flock at the world's biggest festivals. "At first, music was a personal sanctuary, it was something I cherished, a place where I could express myself," she looks back on that incredible journey. "That sharing of my very deepest feelings with others took some time getting used to."
Not only do you turn those feelings into songs, you also put them on paper. By releasing The Magic Border this month, you have your first book of poetry.
Arlo Parks: As I wanted to study English literature, I was always interested in writing. The Magic Border brings together my two loves, song lyrics and poems. I want to be a musician and a poet.
"I wanted to paint a softer and more human future, I wanted to be more vulnerable than ever," you say about the book. That's beautiful.
Parks: Thanks. Daniyel Lowden, a friend of mine, took photos to accompany the poems. His images are soft and tender. I think we complement each other perfectly.
Your anthology will be published in English and French. Are you looking to tap into a new market?
Parks: My mother was born in Paris. I used to speak French with her every day but unfortunately I can't do that anymore. I try to maintain my vocabulary by watching French nouvelle vague films, but I feel it slipping away. So by publishing in French, that keeps me in touch with that language.
You could also listen to Jacques Brel. I remember you saying in our previous conversation that you are a fan.
Parks: Oh, that is funny. Two days ago, I was with my parents for Father's Day, and we did a sort of nostalgic trip down the memory lane of music I listened to as a child. We had some Brel, and some Daniel Balavoine. My mother was dancing around the room. (Laughs)
Stromae, our biggest Belgian pop star, is sometimes called the new Brel. You must be familiar with his work too, then.
Parks: Of course! Stromae is great. As a teenager, I went to see him with my mum and dad at the Eventim Apollo in London. He sat next to me in the dressing room when I performed at Coachella last year. I watched him do some rope skipping to warm up for his show. I was completely starstruck. (Laughs)
Stromae has cancelled the rest of his world tour due to health problems. A year ago, you also cancelled a series of shows in the US because it made your mental health "deteriorate to a debilitating place," as you said in an Instagram post.
Parks: I found the transition from zero shows to incessant touring very tough. Last year's performing was extremely intense, and I was also writing the songs for My Soft Machine. I felt numb, I needed space to be able to do things that make you breathe as a person, that make you happy, that make sure you don't go head over heels. As a musician, you have to give without end, there is no ceiling. Not only on tour, but also in the studio. That is very tiring, both physically and emotionally. You have to be careful and make sure you set limits, and I did that last year. Mental health is thankfully being taken more seriously. There was a lot of understanding when I cancelled those shows. That felt very comforting.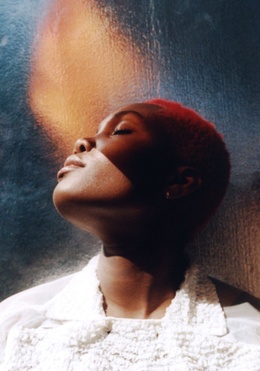 Have we underestimated how tough being a musician is?
Parks: Musicians are the most sensitive people around. Music is a way for them to struggle through life. Besides, people regard celebrities as untouchable, immortal powers; they do not see the living being behind the celebrity. It is great that people with a big platform, like Shawn Mendes or Stromae, are so open about their mental problems. This could really help young artists who have just tasted fame. For myself, I have come to really appreciate rest, especially since living in LA. I regularly go hiking with friends at Big Bear Lake or hang out in Joshua Tree. I am listening to my happiness now. Happiness should be something I work on every day, even if it is just something small. There is no point in working your ass off and then crashing.
"I've been working incessantly / But that won't keep the wolves at bay," you sing nevertheless in "I'm Sorry". What are these dark forces you are trying to ward off?
Parks: Self-doubt. The imposter syndrome. The idea that you can polish your craft as much as you want, and be successful with it, but it still feels like you're not doing anything important. I heard André 3000 of US hip-hop duo Outkast talk about this in a podcast with Rick Rubin. That people like him, who have made so many great things, still doubt themselves, really touches me. He talked about how it was hard simply to play and experiment because everything he put out was analysed to pieces. It was like being under a microscope, he said, he did not feel free. I found that very interesting. It was eating away at his passion to do anything.
Do you experience that yourself?
Parks: I feel that people give me space to grow and change. That makes me trust my own decisions. If I write a text that cuts deep, and I like it, I no longer fixate on how people will receive it. But that doesn't mean I don't doubt myself. No artist has ever just made something and said, this is it, it's perfect like this. I am the best! You have to find a balance. I can be proud of what I have achieved, but I can also look forward to the next thing.
"I wish I was bruiseless / Almost everyone that I love has been abused, and I am included," you sing on "Bruiseless", after which you express the desire to be an innocent seven-year-old child again. What do you miss as an adult?
Parks: That childlike wonder. That you are a blank canvas. When a child sees a beautiful flower, it is simply enchanted by it, rather than comparing it to the other flowers it has seen. As a writer, now and then you need to connect to that inner child. With that part of you that just observes the world and is curious and open. My Soft Machine takes an arc, from that innocence of yesteryear to finding meaning in your friends and to find comfort in love. In finding joy in the now, yet being confused about who you are.
I have had many conversations with friends who are in their 30s and 40s. There is this assumption that from a certain age you will understand everything, and that you will be sure about what is going on. But, of course, that never happens. I really love that. You are always looking forward to the next step. That's why I sing that "we are all scared kids." There is power in the fact that we will never actually know anything, that we are just doing our best in the moment.
Who was that seven-year-old Anaïs?
Parks: When I was very little, I was very extroverted. I tried to talk to everyone. I wanted to write stories back then too. About dinosaurs or whatever. And I wanted people to read what I wrote. (Laughs) By writing, I could place myself in a world detached from reality. It was the same in music. Hence my alias. Not that I wanted to be someone else, I just wanted to spend time in a different world. As I got a bit older, I became more shy. In my late teens, I met friends who loved music, just like me. That's when I really found myself.
It is striking how often your songs offer support to people who are struggling . You do the same in real life, for example as an ambassador for the charity CALM (Campaign Against Living Miserably).
Parks: Most of what I have done for them was during the pandemic, raising awareness and funds. When you have a voice in a platform like CALM, people really listen to what you write. Social media is completely different, there is so much white noise. Mental health has always been something close to my heart, partly also because of people around me who have really struggled with it, at different periods in my life. It is important that people who feel hopeless know where to get help.
Yet you sing "I feel so much guilt that I couldn't guard more people from harm."
Parks: I am a concerned person, I want to help the people around me. You are always someone's friend or child or sibling. Life happens to all of us, sometimes it's a gift, sometimes it hurts.
French writer Annie Ernaux says she writes books to find out if she is the only person in the world who feels this way. My songs are very personal, yet they are like a bottle in the ocean. You hope they will be picked up and someone will connect with a story or a topic. That also makes me feel less alone.
You are not alone. You have gained a huge army of fans, including greats like Phoebe Bridgers who sang along on your single "Pegasus".
Parks: As a sixteen-year-old, I listened to Stranger in the Alps, Phoebe Bridgers' debut record, in my bedroom. Now I am on stage with her. It is unreal to be embraced by artists I admire, and to feel part of a musical scene. Back in London, for a long time I was an outsider who did not belong anywhere. I often have to pinch myself in the arm to realise where I am right now.
Your lyrics are full of little tributes to artists that have inspired you, from musicians like Frank Ocean to actresses like Juliette Binoche. "You make me feel free / Ripping it out of me like Kim Deal" is another beautiful homage.
Parks: Music is something very powerful to me. When I listen to a song I love, it feels like someone is pulling something out of me. Especially as a teenager, music was something very intense. When I listened to The Pixies and The Breeders, and to Kim Deal's raw playing, I felt like the strongest person in the world. I love to compare music with love, it has that same intensity. Especially when you're a teenager, that total crush, that urgency, that feeling of, "Oh!"
I can't wait to let you rip it out of me at the AB!
Parks: Great, you better get ready. Who is arlo parks?