Early in his career, Jan Martens enjoyed success with his contemporary and accessible dance performances. In recent years, things have been moving very fast for the choreographer, with two creations at the Avignon theatre festival and two selections for the Flemish TheaterFestival. At Les Brigittines he presents his newest piece, Elisabeth Gets Her Way.
This summer, Jan Martens was a guest at the Festival d'Avignon, the most important theatre festival for contemporary performing arts in France – for the second consecutive time. In 2021 he reaped success with Any Attempt Will End in Crushed Bodies and Shattered Bones. Up to then, his greatest work was danced by seventeen dancers aged between 17 and 70 and, as is often the case with Martens, the creation related to what is happening in the world today. The title referred to a statement by Chinese President Xi Jinping on the protest in the now enslaved Hong Kong.
From Black Lives Matter, #MeToo and Brexit to the climate marches: rebellion and social upheaval were a central theme of Any attempt..., supported by quotes from Ali Smith or Kae Tempest, a protest song by jazz musician Maxwell Roach and, above all, Henryk Górecki's Concerto for Harpsichord and String Quartet. Any Attempt...was selected for the TheaterFestival. The following year, Jan Martens was allowed to premiere Futur proche at the Cour d'honneur in front of five times 2.000 spectators, this time with two dancing teenagers and fifteen dancers from Opera Ballet Flanders, where Martens will be an associate artist for the coming years.
This month, Les Brigittines features Martens' latest play Elisabeth Gets Her Way, which was selected for the 2022 edition of the TheaterFestival. In his solo, Martens pays homage to Polish Elisabeth Chojnacka, who charmed a large audience with her flamboyantly styled harpsichord music. Jan Martens: "Harpsichord seemed doomed by the rise of the piano, which could keep pace with other instruments in an orchestra during concerts. But before Chojnacka, contemporary masters like György Ligeti and Iannis Xenakis composed music for the harpsichord. When I saw the video of the 1980 premiere of the rebellious, minimalist concerto which Górecki wrote for her, I was amazed by the energy of that woman behind the harpsichord."
What Chojnacka did for harpsichord, Martens does for dance. "His accessible and thoughtful performances with great emotional impact will make a wide audience excited about contemporary dance," the TheaterFestival jury wrote. "I am very happy about being able to demonstrate that radicalism does not have to get in the way of accessibility," Martens says. "You shouldn't be super-conceptual or commercial, either. You can absolutely radicalize your concepts while thinking about who you want to welcome into your venue."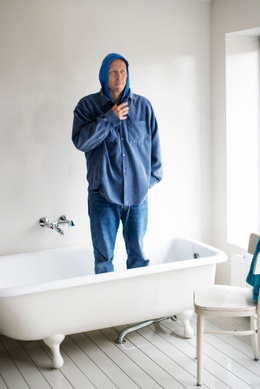 That is why from the start of his career, Martens ensured representation on stage and thematically emphasized inclusion as well. For example, he regularly made performances with non-skilled dancers, created three productions with Bis, La Bête and Victor featuring actors whose bodies you would not expect in a contemporary dance context, and in Passing the Bechdel Test he worked with thirteen young people who performed texts by well-known and less well-known women. "That approach should become a natural thing, not a special pitch. I am curious to see what I can shake up at the Opera Ballet Vlaanderen ."
A horizontal, non-competitive approach in the arts is also the guiding principle of dance organisation GRIP, where Martens shares artistic coordination with colleagues Cherish Menzo, Femke Gyselinck and Steven Michel. "We share resources, three production managers, one business and one communications manager, and meet every month for consultations on everything. It's time for such a common organizational form. It allows artists to be more efficient with money and accumulate knowledge which won't disappear when someone leaves or quits."