Next Sunday we will be obliged to go to the polls and make a choice, but fortunately the organizers of the Brussels Jazz Weekend are making things easier for us than ever during their third edition. You can be guided by your "jazzatar" or by the ten curators in charge of the outdoor programming. Five of them present their selections here. You can make your own coalitions.
Democrazy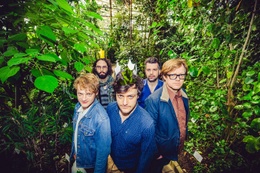 A traveling music club without a fixed location, but it has been a leader in the alternative scene in Ghent for many years.
Curator Luxemburgplein/Place du Luxembourg (Friday)
To give the capital an extra injection of eclecticism that is characteristic of the new draft of Ghent bands who give jazz a contemporary face in the wake of STUFF.
Peenoise, Steiger, Compro Oro, and BLOW 3.0 (Friday 24/5, 17.30 > 22.45)
Eric Smout (artistic director and coordinator): "We were asked to programme 'electronic jazz', but we deviated from that slightly. It isn't all electronic, and we really focused on the 'leftfield' outliers of the Ghent jazz scene. A few of the big-name fixtures, like Lander Gyselinck and Mattias De Craene, were not available, so we ended up with a fresh, fun line-up with four great bands that each stand for something."
Smout: "I don't really have a specific preference, but the band from which I am expected the most and which intrigues me the most because of its musicality is Compro Oro. The musicians play in a variety of different Ghent bands, which is typical of the scene here. It is one big clique. For example, vibraphonist and marimba player Wim Segers, to name just one of the band members, also plays in PAARD, an exciting new instrumental trio that mixes jazz with hip hop and funk. Compro Oro performs a combination of traditional Latin jazz with Afro-Cuban influences that they blend with contemporary elements. In fact, the latter have apparently taken the upper hand in their new work, of which they will present a taster in Brussels."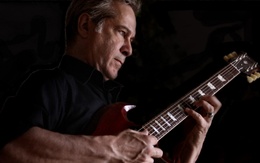 French-Belgian singer with Caribbean roots. During her Eurovision Song Contest performance in 1987, she sang her single for an audience of millions, launching her international pop career.
Curator Grote Markt/Grand-place (Friday and Saturday)
Lazlo is a very versatile artist. In addition to variety shows and acting, she now also has a literary career. She is currently writing her fifth novel. Over the past decade, she has rediscovered jazz. She performed her tribute to Billie Holiday live 180 times. In Brussels, she is performing an homage to two other great jazz voices, Ella Fitzgerald and Sarah Vaughan.
David Linx, Viktor Lazlo 3 Femmes (Friday 24/5, 19.30 > 23.00), Julie Erikssen ft Igor Gehenot, Nicolas Kummert SYM, Khalil Chahine (Saturday 25/5, 18.00 > 23.00)
Viktor Lazlo: "Love. (Laughs) I never would have been able to start my jazz career without a number of musicians who pushed me in the right direction, and this is my way to thank them. The only person in my selection I don't know personally is pianist Igor Gehenot, but his music is great company. The subtle saxophonist Nicolas Kummert contributed to my Billie Holiday tribute and I still think that David Linx, with whom I have been collaborating since the 1980s, has the most beautiful jazz voice in Belgium and even in Europe. It is a shame that he is so undervalued in Flanders."
Lazlo: "Definitely don't miss Khalil Chahine. The French guitarist and composer of Egyptian heritage is not so well known in Belgium, but his latest album Kafé Groppi is another brilliant testament to his refinement and complexity. To me, his songs embody musical perfection."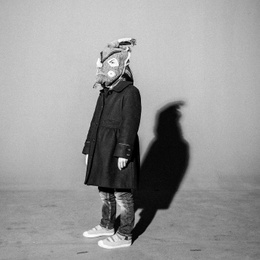 A creative workspace and meeting centre for musicians that opened late last year at Studio CityGate, a former textiles factory in Anderlecht, where it also organizes performances.
Curator Kapellemarkt/place de la chapelle (Friday and saturday)
This is an excellent opportunity for the music centre to showcase its work. It is located in an interesting urban environment – between skatepark, conservatory, church, and Marollen – that is perfect for its young target audience.
Next.Ape, Commander Spoon, and JTOTHEC (Friday 24/5, 18.30 > 23.00), Tristan, MDC III, and YÔKAÏ (Saturday 25/5, 18.30 > 23.00)
Arne Huysmans (founder of VOLTA): "According to the organizers: Young Alternative Jazz. But that is a bit too vague for me. I think it is a very rhythmic line-up with a lot of groove. Like the enthralling MDC III, who put you in a trance with two drums and a sax. But there is also Next.Ape, the new project of drummer Antoine Pierre, who is best known for Urbex and TaxiWars. It combines a contemporary jazz sound with spoken word, Veronika Harcsa's incredible voice, and psychedelic rock."
Huysmans: "I am really looking forward to YÔKAÏ, an instrumental octet that is not very well known among the general public yet, even though they were founded in 2011. With two drums, winds, synths, and a lot of African influences, they sound very groovy and exotic. Their recent show at the Botanique only lasted half an hour, so we're very happy to give them a longer set. It's also a way of highlighting our mission to support young Brussels bands."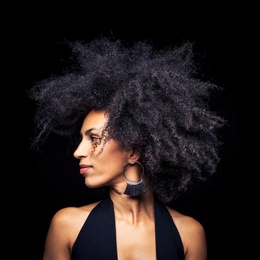 For years the biggest promoter of Belgian jazz in Brussels and Wallonia, where they organize concerts and tours.
Curator Luxemburgplein/Place du Luxembourg (Saturday)
The curator that has been active longest. They have been sending groups to the Brussels Jazz Marathon/Weekend since 1996 because it is still a great showcase for their musicians. "Jazz still frightens some people, but if they happen to encounter the genre on the street, it might assuage that fear," musician-director Joachim Caffonnette explains his mission.
Erik Bogaerts Quartet, Fabien Degryse/Joël Rabesolo, Houben/Wissels/De Haas, Casimir Liberski Trio, and Rebirth:Collective (Sunday 26/5, 14.30 > 21.30)
Caffonnette: "There isn't one in our programme because we curate in the purest form with the greatest integrity, namely blindfold. That is also how we decide which bands can go on Jazz Tour. We invite the bands who receive the most votes from the twenty musicians in our jury after a performance. The result is always eclectic; this time it features a guitar duo, a piano trio, a larger collective… We are actually presenting a summary version of our annual operations at Brussels Jazz Weekend, condensed into one afternoon."
Caffonnette: "It goes against our principles to pick one specific band, but because they have also been invited to join the Jazz Tour this autumn, I choose the guitar duo Fabien Degryse/Joël Rabesolo. They perform a unique mix of jazz, blues, and folk from Madagascar, where Rabesolo's roots lie. An acoustic guitar set on the noisy and bustling Grand-Place. It can't get much purer than that."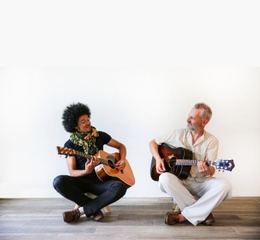 A 16th-century farm in Louvain-la-Neuve that has been hosting concerts in all music genres in a protected old storage barn since 2008 and starting in 2020 in the former stables.
Curator Grote markt/Grand-place (Sunday)
Because their diverse programmes deserve more attention and will also appeal to people in the capital, where there was probably still some hesitancy about extra input from the south of the country.
Esinam, Wonky Clock, Echt!, Glass Museum (Friday 24/5, 16.15 > 22.45)
Gabriel Alloing: "We were asked to programme electro jazz. As luck would have it, we love blending genres, but why limit that to electro and jazz? Why not world, pop, jazz, or classical? I don't really care what the genres are, as long as the musical experience is interesting. Our four acts can't all be put into one box; they each present a different kind of fusion. Fortunately, audiences are increasingly accepting that."
Alloing: "Glass Museum has had an impressive artistic trajectory, but so has Esinam Dogbatse. She is a Brussels artist of Ghanaian heritage and has performed with us several times, including with L'Envol, a project for children that she presented with singer-dancer Marie-Rose Mayele under the name MAZIMA, and which we co-produced. She is a young and colourful talent who combines electro jazz with Afro jazz, has tremendous presence, and excites audiences of all ages."